Lumisidus (Германия)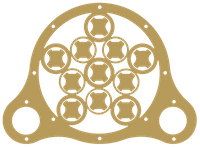 LumiSidus (Германия)
Перейти в каталог
The LumiSidus wouldn't be out of place in a gallery or museum. There the constant and interlocking movement of the watches would be interpreted as a three-dimensional metaphor for the eternal mystery of time. In actual fact, the sight of a rotating and revolving sculpture at an art exhibition was the "big bang" for M&E. Its founders took the fascination evoked by this work of art back to the development workshop. They combined it with sophisticated technology and exquisite details to create a luxurious product in every sense.
Alexander Merklinger is a passionate unorthodox thinker and inventor. His passion for tricky mechanical tasks pursues him even in his spare time. It's no wonder that he is also a keen enthusiast and collector of high quality mechanical watches. These mostly have automatic movements which wind up the watch normally as a result of motion by the wearer. Of course, this won't work if a watch is lying motionless in a cabinet, which is unavoidable if you happen to have several watches in your collection.

If the watch stops, winding up and setting by hand can be quite time consuming, especially if the timepiece has additional complications such as the display of date, day of the week, moon phase and so on. Merklinger had already planned to purchase a watch winder to keep in motion those timepieces that he wasn't currently wearing. After he had visited the above mentioned exhibition, he decided to build such a device himself.And so began the development of a new type of watch winder that not only keeps the little mechanical works of art in gentle motion but also forms part of an aesthetically appealing all embracing objet d'art.

The LumiSidus watch winders made their début at the Munich Time trade show last autumn after full capacity production began in the summer. All components and materials are sourced from Germany and Switzerland, emphasises Merklinger. Although still new on this exclusive market, the newcomer from Mannheim has already found a number of prospective customers and partners. Just a few years after their "big bang", the heavenly bodies of LumiSidus are already circling in a steady orbit.
LumiSidus (Германия)
Перейти в каталог
Сайт производителя:
https://lumisidus.com